Microbase, a provider of telecommunications services and solutions, supports the Business Continuity of companies in Greece once again, during the pandemic period, offering  for free the Cloud service Enterprise Voice for Microsoft Teams for 3 months.
The offer concerns the possibility of using Microsoft Teams as a standalone Call Center, as an extension of your existing Call Center (if supported) or as a simple telephone of any company.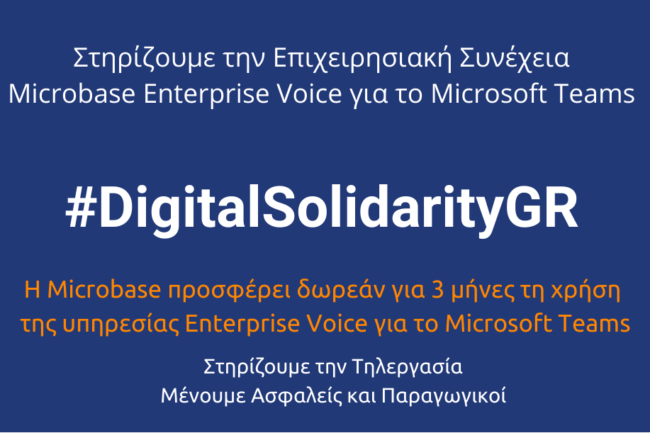 Benefits:
Remote working, safely and simply, with the possibility of using corporate telephone numbers.
Availability to users of their internal phone inside and outside the company, without diverting calls, via computer, tablet, smartphone.
Integrated communication Collaboration/ Telephony.
The offer includes:
free activation and configuration of the service,
free use of the service for 5 users / company, until 28/02/2021.
The offer does not include the cost of Microsoft licenses and telecommunications costs, which are based on the current price list.
To activate
For the provision of the service, the interested company sends an email to solidarity@microbase.gr, requesting the activation of the Microbase Enterprise Voice for Microsoft Teams, mentioning the Digital Solidarity offer. A Microbase representative will contact you for the activation procedure.
To operate
After the activation, users will see in the Microsoft Teams application the Calls option, which allows making and receiving corporate calls. No action is required on users' devices to activate the service.