Microbase, as a member of SEV (Hellenic Federation of Enterprises), attended the Industrial Conference and the Open Event of the 2023 General Assembly held on October 9 and 10, 2023, at the Athens Concert Hall, on the subject:
"Fulfilling our potential / Shaping our future" (#SEV4Growth)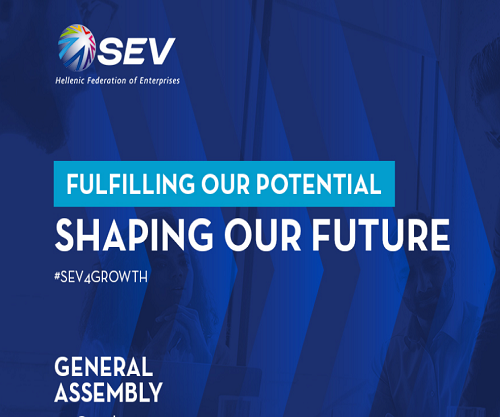 The aim of the Conference was to highlight the vision and the intersections for the competitiveness of the industry up to 2030, in a period of geopolitical rearrangements, energy crisis, climate transition, technological developments, redefinition of the work environment, new relationship between man and technology, reshaping of international chains worth.
The Conference attended leading businessmen and top business executives, as well as representatives of European and international organizations, such as, among others, the President of Business Europe Fredrik Persson and the President of the European Round Table for Industry (ERT) Jean-François van Boxmeer.
From the political scene of the country, the Minister of Labor and Social Security Adonis Georgiadis, the Minister of National Economy and Finance Kostis Hatzidakis, answered the questions of the journalists and the leadership of SEV. Finally, the new President of SYRIZA Stefanos Kasselakis presented with his speech, his views, and the vision of the party he leads.
Additionally, Ministers who attended: Lina Mendonis, Niki Kerameos, Haris Theocharis, Vassilis Spanakis, Akis Skertsos, Thanasis Kontogeorgis and others.
During the Open Event of the General Assembly, a discussion took place between the Prime Minister, Kyriakos Mitsotakis and the President of SEV, Dimitris Papalexopoulos.
The 2-day discussions/works were coordinated by the journalist Niki Lymperakis.
One of the topics of immediate interest to Microbase was the section:
Man at the core: In the modern working environment, the need for technological knowledge and skills goes hand in hand with the removal of anchors at work. Investing in the continuous development of human capital is necessary for the effective interconnection of humans with artificial intelligence, the personal development of employees, the release of their creativity, but also the growth of business value.
The participants from Microbase were the Managing Partners Antonis Psaras and Yiannis Lagonikas and the Corporate Development Manager Kyriaki Oikonomakis.
The important issues, for the present and future of business/industry, that were covered at the Conference were of great interest, in an era where technology moves the strings.
Microbase with:
more than 20 years of providing Integrated Communication Solutions,
the presence of its Solutions and Products in 40 countries,
investments in its Human Resources,
highly skilled Engineers,
partnerships in the Private and Public sector,
provides Solutions & Services, which promote the facilitation of communications in all industries, for the benefit of development and prosperity, always putting Man at the core – as defined in its Mission:
Microbase's mission is to adapt the most advanced Technology




to the customer's needs, putting Man at the core.